LeRoy Pope Walker

LeRoy Pope Walker


---

In office
February 25, 1861 – September 16, 1861
President
Jefferson Davis
Preceded by
Office instituted
Succeeded by
Judah P. Benjamin

---

Born
February 7, 1817


Huntsville, Alabama

, U.S.
Died
August 23, 1884 (aged 67)
U.S.
Political party

Democratic

Spouse(s)
Eliza Dickson Pickett
Profession

Politician

Religion

Presbyterian
LeRoy Pope Walker (February 7, 1817 – August 23, 1884) was the first Confederate States Secretary of War and issued the orders for the firing on Fort Sumter, which began the American Civil War. Resigning within the year, he served briefly as brigadier general in the Confederate States Army, but saw no combat.
A lawyer by profession, Walker was born in Huntsville, Alabama, the son of John Williams Walker and Matilda Pope, and a grandson of LeRoy Pope. He married Eliza Dickson Pickett on July 29, 1850.
In March 1861, the Southern states that had seceded from the Union appointed special commissioners to travel to those other Southern states that had yet to secede. Walker was chosen as the Commissioner from Alabama to the Tennessee Secession Convention, where he publicly read Alabama's Articles of Secession and tried to persuade Tennessee politicians to vote to do likewise.
Walker was particularly ill-suited to be Secretary of War, as he stated that all of the blood shed in the Civil War could be wiped up with a pocket handkerchief.
Walker was buried in Maple Hill Cemetery in Huntsville.
See also
[
]
References
[
]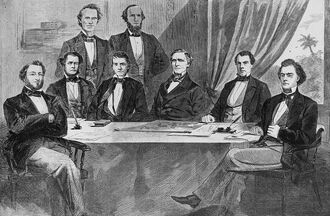 Template:Start box Template:S-off |- style="text-align: center;" |- style="text-align:center;" |width="30%" align="center" rowspan="1"|Preceded by
(none) |width="40%" style="text-align: center;" rowspan="1"|Confederate States Secretary of War
February 25, 1861 – September 16, 1861 |width="30%" align="center" rowspan="1"| Succeeded by
Judah P. Benjamin |- |}
Template:SpeakerALHouse

Template:US-mil-bio-stub

ca:Leroy Pope Walker de:Leroy Pope Walker fr:Leroy P. Walker nl:LeRoy Pope Walker ja:リロイ・ポウプ・ウォーカー pl:LeRoy Pope Walker