For other uses, see
Jefferson Davis (disambiguation)
.
Template:Pp-semi-vandalism
Jefferson Davis

Jefferson Davis


---

In office
February 18, 1861 – May 5, 1865
(

Template:Age in years and days

)
Vice President

Alexander Stephens

Preceded by
Office instituted
Howell Cobb (Provisional head of state as the Congress President)
Succeeded by
Office abolished
End of the Confederate States, Reconstruction

---

23rd

United States Secretary of War

In office
March 7, 1853 – March 4, 1857
President

Franklin Pierce

Preceded by
Charles Magill Conrad
Succeeded by

John Buchanan Floyd

---

In office
August 10, 1847 – September 23, 1851
Preceded by

Jesse Speight

Succeeded by
John J. McRae
In office
March 4, 1857 – January 21, 1861[1]
Preceded by

Stephen Adams

Succeeded by
Secession
Adelbert Ames (1870)

---

Member of the

U.S. House of Representatives

from

Mississippi's At-large congressional district

In office
March 4, 1845 – June 1846
Served with:

Stephen Adams

,

Robert W. Roberts

and Jacob Thompson
Preceded by

William H. Hammett




Robert W. Roberts


Jacob Thompson


Tilghman M. Tucker

Succeeded by

Henry T. Ellett

---

Chairman of the

Senate Committee on Military Affairs

In office
1849–1851
Preceded by

Thomas Hart Benton

Succeeded by
James Shields
In office
1857–1861
Preceded by

John Weller

Succeeded by

James Wilson

---

Born
June 3, 1808


Christian County

,

Kentucky

Died
December 6, 1889 (aged 81)


New Orleans

, Louisiana
Political party

Democratic

Spouse(s)

Sarah Knox Taylor




Varina Howell

Alma mater

Jefferson College




Transylvania University




United States Military Academy

Profession

Soldier

,

Politician

Religion

Episcopal

Signature
Jefferson Davis's signature
Military service
Service/branch
United States Army


Mississippi Rifles

Battles/wars

Mexican-American War
Jefferson Finis Davis (June 3, 1808 – December 6, 1889) was an American military officer, statesman and leader of the Confederacy during the American Civil War, serving as the President of the Confederate States of America for its entire history, 1861 to 1865.
A West Point graduate, Davis fought in the Mexican-American War as a colonel of a volunteer regiment, and was the United States Secretary of War under President Franklin Pierce. Both before and after his time in the Pierce Administration, he served as a U.S. Senator representing the State of Mississippi. As a Senator he argued against secession, but did agree that each state was sovereign and had an unquestionable right to secede from the Union.
In February, 1861, after he resigned from the U.S. Senate, he was selected provisional President of the Confederate States of America; he was elected without opposition to a six-year term that November. During his presidency, Davis took charge of the Confederate war plans but was unable to find a strategy to stop the larger, more powerful and better organized Union. His diplomatic efforts failed to gain recognition from any foreign country, and he paid little attention to the collapsing Southern economy, printing more and more paper money to cover the war's expenses. Historians have criticized Davis for being a much less effective war leader than his Union counterpart Abraham Lincoln, which they attribute to Davis being overbearing, over controlling, and overly meddlesome, as well as being out of touch with public opinion, and lacking support from a political party (the Confederacy had no political parties). According to historian Bell I. Wiley, the flaws in his personality and temperament made him a failure as the highest political officer in the Confederacy. His preoccupation with detail, inability to delegate responsibility, lack of popular appeal, inability to get along with people who disagreed with him, and his neglect of civil matters in favor of military were only a few of the shortcomings which worked against him.[2]
After Davis was captured May 10, 1865, he was charged with treason, though not tried, and stripped of his eligibility to run for public office.[3] While not disgraced, he was displaced in Southern affection after the war by its leading general, Robert E. Lee. However, Southerners empathized with his defiance, refusal to accept defeat, and resistance to Reconstruction. Over time, admiration for his pride and ideals made him a Civil War hero to Southerners, and his legacy became part of the foundation of the New South.[4]
Early life and military career
[
]
Davis was the youngest of the 10 children of Samuel Emory Davis (Philadelphia, Philadelphia County, Pennsylvania, 1756 – July 4, 1824) and wife (married 1783) Jane Cook (Christian County, (later Todd County), Kentucky, 1759 – October 3, 1845), daughter of William Cook and wife Sarah Simpson, daughter of Samuel Simpson (1706 – 1791) and wife Hannah (b. 1710). The younger Davis's grandfather, Evan Davis (Cardiff, County Glamorgan, 1729 – 1758), emigrated from Wales and had once lived in Virginia and Maryland, marrying Lydia Emory. His father, along with his uncles, had served in the Continental Army during the American Revolutionary War; three of his older brothers served during the War of 1812.
During Davis's youth, the family moved twice; in 1811 to St. Mary Parish, Louisiana and in 1812 to Wilkinson County, Mississippi. In 1813 Davis began his education at the Wilkinson Academy, near the family plantation in the small town of Woodville. Two years later, Davis entered the Catholic school of Saint Thomas at St. Rose Priory, a school operated by the Dominican Order in Washington County, Kentucky. At the time, he was the only Protestant student.
Davis went on to Jefferson College at Washington, Mississippi, in 1818, and to Transylvania University at Lexington, Kentucky, in 1821. In 1824 Davis entered the United States Military Academy (West Point).[5]
In June 1828 following graduation Second Lieutenant Davis was assigned to the 1st Infantry Regiment and was stationed at Fort Crawford, Wisconsin. Lt. Davis was home in Mississippi for the entire Black Hawk War of 1832, but was assigned by his colonel, Zachary Taylor, to escort Black Hawk himself to prison—it is said that the chief liked Davis because of the kind treatment he had shown.
Marriage, plantation life, and early political career
[
]
Davis fell in love with Zachary Taylor's daughter, Sarah Knox Taylor. Her father did not approve of the match, so Davis resigned his commission and married Miss Taylor on June 17, 1835, at the house of her aunt near Louisville, Kentucky. The marriage proved to be short. While visiting Davis's oldest sister near Saint Francisville, Louisiana, both newlyweds contracted malaria, and Davis's wife died three months after the wedding on September 15, 1835. In 1836 he moved to Brierfield Plantation in Warren County, Mississippi. For the next eight years, Davis was a recluse, studying government and history, and engaging in private political discussions with his brother Joseph.[5]
The year 1844 saw Davis's first political success, as he was elected to the United States House of Representatives, taking office on March 4 of the following year. In 1845 Davis married Varina Howell, the granddaughter of the late New Jersey Governor Richard Howell whom he met the year before, at her home in Natchez, Mississippi.
Jefferson and Varina Howell Davis had six children, but only one survived young adulthood and married:
Samuel Emory Davis, b. July 30, 1852; d. June 13, 1854
Margaret Howell Davis, b. February 25, 1855; d. July 18, 1909; married Joel Addison Hayes Jr.(1848–1919), five children
Jefferson Davis, Jr., b. January 16, 1857; d. October 16, 1878; never married
Joseph Evan Davis, b. April 18, 1859; d. April 30, 1864
William Howell Davis, b. December 6, 1861; d. October 16, 1872
Varina Anne "Winnie" Davis, b. June 27, 1864; d. September 18, 1898; never married
There is a portrait of Mrs. Jefferson Davis in old age at the Jefferson Davis Presidential Library in Biloxi, Mississippi, painted by Adolfo Müller-Ury (1862–1947) in 1895 and dubbed 'Widow of the Confederacy'. It was exhibited at the Durand-Ruel Galleries in New York in 1897. The Museum of the Confederacy at Richmond, Virginia, possesses Müller-Ury's 1897-98 profile portrait of their daughter Winnie Davis which the artist presented to the Museum in 1918.
Second military career
[
]
In 1846 the Mexican-American War began. Davis resigned his house seat in June and raised a volunteer regiment, the Mississippi Rifles, becoming its colonel.[6]
On July 21, 1846, they sailed from New Orleans for the Texas coast. Davis armed the regiment with the M1841 Mississippi Rifle percussion rifle and trained the regiment in its use, making it particularly effective in combat.[6]
In September 1846 Davis participated in the successful siege of Monterrey.[7]
On February 22, 1847, Davis fought bravely at the Battle of Buena Vista and was shot in the foot, being carried to safety by Robert H. Chilton. In recognition of Davis's bravery and initiative, commanding general Zachary Taylor is reputed to have said: "My daughter, sir, was a better judge of men than I was."[5]
On May 17, 1847, Pres. James K. Polk offered[8] Davis a Federal commission as a brigadier general and command of a brigade of militia. He declined the appointment arguing that the United States Constitution gives the power of appointing militia officers to the states, and not to the Federal government of the United States.[8]
Narciso López sought both Davis and Robert E. Lee to lead his first filibuster expedition to Cuba, but both turned him down.[9]
Return to politics
[
]
Senator
[
]
Because of his war service, the governor of Mississippi appointed Davis to fill out the senate term of the late Jesse Speight. He took his seat December 5, 1847, and was elected to serve the remainder of his term in January 1848. In addition, the Smithsonian Institution appointed him a regent at the end of December 1847.
Davis introduced an amendment to the Treaty of Guadalupe Hidalgo to annex most of northeastern Mexico. It failed 44-11.
The senate made Davis chairman of the Committee on Military Affairs. When his term expired he was elected to the same seat (by the Mississippi legislature, as the constitution mandated at the time). He had not served a year when he resigned (in September 1851) to run for the governorship of Mississippi on the issue of the Compromise of 1850, which Davis opposed. This election bid was unsuccessful, as he was defeated by fellow Senator Henry Stuart Foote by 999 votes.[10]
Left without political office, Davis continued his political activity. He took part in a convention on states' rights, held at Jackson, Mississippi, in January 1852. In the weeks leading up to the presidential election of 1852, he campaigned in numerous Southern states for Democratic candidates Franklin Pierce and William R. King.
Secretary of war
[
]
Pierce won the election and in 1853 made Davis his Secretary of War.[11] In this capacity, Davis gave Congress four annual reports (in December of each year), as well as an elaborate one (submitted on February 22, 1855) on various routes for the proposed Transcontinental Railroad, and promoted the Gadsden Purchase of today's southern Arizona from Mexico. The Pierce Administration ended in 1857. The President lost the Democratic nomination, which went instead to James Buchanan. Davis's term was to end with Pierce's, so he ran successfully for the Senate, and re-entered it on March 4, 1857.
Return to Senate
[
]
His renewed service in the senate was interrupted by an illness that threatened him with the loss of his left eye. Still nominally serving in the senate, Davis spent the summer of 1858 in Portland, Maine. On the Fourth of July, he delivered an anti-secessionist speech on board a ship near Boston. He again urged the preservation of the Union on October 11 in Faneuil Hall, Boston, and returned to the senate soon after.
As Davis explained in his memoir The Rise and Fall of the Confederate Government, he believed that each state was sovereign and had an unquestionable right to secede from the Union. He counseled delay among his fellow Southerners, because he did not think that the North would permit the peaceable exercise of the right to secession. Having served as secretary of war under Pres. Franklin Pierce, he also knew that the South lacked the military and naval resources necessary to defend itself if war were to break out. Following the election of Abraham Lincoln in 1860, however, events accelerated. South Carolina adopted an ordinance of secession on December 20, 1860, and Mississippi did so on January 9, 1861. As soon as Davis received official notification of that fact, he delivered a farewell address to the United States Senate, resigned and returned to Mississippi.
President of the Confederate States February 18, 1861–May 5, 1865
[
]
Four days after his resignation, Davis was commissioned a major general of Mississippi troops.[5] On February 9, 1861, a constitutional convention at Montgomery, Alabama, named him provisional president of the Confederate States of America and he was inaugurated on February 18, 1861. In meetings of his own Mississippi legislature, Davis had argued against secession; but when a majority of the delegates opposed him, he gave in.
Peace and war
[
]
In conformity with a resolution of the Confederate Congress, Davis immediately appointed a Peace Commission to resolve the Confederacy's differences with the Union. In March 1861, before the bombardment of Fort Sumter, the commission was to travel to Washington, D.C., to offer to pay for any Federal property on Southern soil, as well as the Southern portion of the national debt; but it was not authorized to discuss terms for reunion. He appointed Gen. P.G.T. Beauregard to command Confederate troops in the vicinity of Charleston, South Carolina. He approved the cabinet decision to bombard Fort Sumter, which started the Civil War. When Virginia switched from neutrality and joined the Confederacy, he moved his government to Richmond, Virginia in May 1861. Davis and his family took up his residence there at the White House of the Confederacy in late May.
1861 election
[
]
Davis was elected to a 6-year term as President of the Confederate States of America on November 6, 1861. He had never served a full term in any elective office, and that would turn out to be the case on this occasion as well. He was inaugurated on February 22, 1862.
Lee and strategy
[
]
In June 1862, in his most successful move, Davis assigned Gen. Robert E. Lee to replace the wounded Joseph E. Johnston in command of the Army of Northern Virginia, the main Confederate army in the Eastern Theater. That December he made a tour of Confederate armies in the west of the country. Davis largely made the main strategic decisions on his own, or approved those suggested by Lee. He had a very small circle of military advisers. Davis evaluated the Confederacy's national resources and weaknesses and decided that in order to win its independence the Confederacy was going to have to fight mostly on the strategic defensive. Davis maintained mostly a defensive outlook throughout the war, paying special attention to the defense of his national capital at Richmond. His attempted strategic offensives when he felt that military success would shake Northern self-confidence and strengthen the peace party there. The campaigns met defeat at Antietam (1862) and Gettysburg (1863).[12]
Failures as president
[
]
Most historians sharply criticize Davis for his flawed military strategy, his selection of friends for military commands, and his neglect of the homefront crises.[13][14] Until late in the war he resisted efforts to appoint a general-in-chief, essentially handling those duties himself; on January 31, 1865, Lee assumed this role, but it was far too late. Davis insisted on a strategy of trying to defend all Southern territory with ostensibly equal effort, which diluted the limited resources of the South and made it vulnerable to coordinated strategic thrusts by the Union into the vital Western Theater, such as the capture of New Orleans in early 1862. He made other controversial strategic choices, such as allowing Lee to invade the North in 1862 and 1863 while the Western armies were under very heavy pressure; not only did Lee lose at Gettysburg but simultaneously Vicksburg fell and the Union took control of the Mississippi River, splitting the Confederacy. At Vicksburg, the failure to coordinate multiple forces on both sides of the Mississippi River rested primarily on the inability of Davis to create a harmonious departmental arrangement or to force such commanders as generals Edmund Kirby Smith, Earl Van Dorn, and Theophilus Holmes to work together.[15]
Davis has been faulted for poor coordination and management of his generals. This includes his reluctance to relieve his personal friend, Braxton Bragg, defeated in important battles and distrusted by his subordinates; he relieved the cautious but capable Joseph E. Johnston and replaced him with the reckless John Bell Hood, resulting in the loss of Atlanta and the eventual loss of an army.[16]
Davis ignored the common people and thereby failed to harness Confederate nationalism by directing the energies of the people into winning the war; more and more the plain folk resented the favoritism shown the rich and powerful.[17] Davis did not use his presidential pulpit to rally the people with stirring rhetoric, and stayed in Richmond where few people saw him. In April 1863, food shortages led to rioting in Richmond, as poor people robbed and looted numerous stores for food until Davis cracked down and restored order. Only as military fortunes became desperate in 1864, did he tour Georgia trying to raise morale.[18] Davis feuded with powerful state governors, who used states rights arguments to withhold their militia units from national service, and otherwise blocked mobilization plans.[19]
Final days
[
]
In April 3, 1865, with Union troops under Ulysses S. Grant poised to capture Richmond, Davis escaped for Danville, Virginia, together with the Confederate Cabinet, leaving on the Richmond and Danville Railroad. He issued his last official proclamation as president of the Confederacy, and then went south to Greensboro, North Carolina. Circa April 12, he received Robert E. Lee's letter announcing surrender.
After Lee's surrender, there was a public meeting in Shreveport, Louisiana, at which many speakers urged that the war still continue. Historian John D. Winters in The Civil War in Louisiana (1963) writes that plans were developed for the Davis govenment to flee to Havana, Cuba. There, the leaders would regroup and head to the still Confederate-controlled Trans-Mississippi area by way of the Rio Grande.[20] None of these plans developed.
President Jefferson Davis met with his Confederate Cabinet for the last time on May 5, 1865, in Washington, Georgia, and the Confederate government was officially dissolved. The meeting took place at the Heard house, the Georgia Branch Bank Building, with 14 officials present. He was captured on May 10, 1865, at Irwinville in Irwin County, Georgia.[21] In the confusion, Davis put his wife's overcoat over his shoulders and attempted to flee the Union soldiers, leading to caricatures of him being captured disguised as a woman.[22] After being captured he was held as a prisoner for two years in Fort Monroe, Virginia.
Administration and Cabinet
[
]
Template:Infobox CSCabinet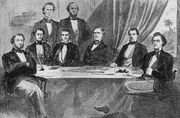 Imprisonment and retirement
[
]
Template:Mergefrom On May 19, 1865, Davis was imprisoned in a casemate at Fortress Monroe, on the coast of Virginia. He was placed in irons for three days. Davis was indicted for treason a year later. While in prison, Davis arranged to sell his Mississippi estate to one of his former slaves, Ben Montgomery.
After two years of imprisonment, he was released on bail of $100,000 which was posted by prominent citizens of both Northern and Southern states, including Horace Greeley, Cornelius Vanderbilt and Gerrit Smith (Smith, a former member of the Secret Six, had supported John Brown). Davis visited Canada, Cuba and Europe. In December 1868 the court rejected a motion to nullify the indictment, but the prosecution dropped the case in February 1869.
In 1869 Davis became president of the Carolina Life Insurance Company in Memphis, Tennessee. He turned down the opportunity to become the first president of the Agricultural and Mechanical College of Texas (now Texas A&M University).
In 1876 he promoted a society for the stimulation of U.S. trade with South America. Davis visited England the next year, returning in 1878 to Beauvoir. Over the next three years there, Davis wrote The Rise and Fall of the Confederate Government.
His reputation in the South was restored by the book and by his warm reception on his tour of the region in 1886 and 1887. In numerous stops he attended "Lost Cause' ceremonies, where large crowds showered him with affection and local leaders presented emotional speeches honoring his sacrifices to the would-be nation. He completed A Short History of the Confederate States of America in October 1889. Two months later on December 6, Davis died in New Orleans of unestablished cause at the age of 81. His funeral was one of the largest ever staged in the South, and included a continuous cortège, day and night, from New Orleans to Richmond.[23]
He is buried at Hollywood Cemetery in Richmond.[24]
Notes
[
]
↑ Shelby Foote (1986): The Civil War: A Narrative, Fort Sumter to Perryville, p. 3. Retrieved 2009-08-04
↑ Bell I. Wiley, "Jefferson Davis: An Appraisal," Civil War Times Illustrated, Jan 1967, Vol. 6 Issue 1, pp 4-17
↑

This limitation was removed by Congress in 1978.

↑ Wilm K. Strawbridge, "'A Monument Better Than Marble': Jefferson Davis and the New South," Journal of Mississippi History, Dec 2007, Vol. 69 Issue 4, pp 325-347
↑ 5.0 5.1 5.2 5.3 Hamilton, Holman (1978). "Jefferson Davis Before His Presidency". The Three Kentucky Presidents.

Lexington, Kentucky

: University Press of Kentucky.

ISBN

 0813102464.

 

↑ p. 121 Thomson, Janice E. Mercenaries, Pirates and Soverigns 1996 Princeton University Press
↑ Rowland, Dunbar (1912). The Official and Statistical Register of the State of Mississippi. Mississippi. Dept. of Archives and History. Nashville, Tennessee: Press of Brandon Printing Company. p. 111. http://books.google.com/books?id=-MoGAQAAIAAJ&pg=PA111&vq=foote&dq=henry+s+foote+1851&source=gbs_search_s&cad=0

. Retrieved 2009-03-26

.

 

↑ Kleber, John E., ed (1992). "Davis, Jefferson". The Kentucky Encyclopedia. Associate editors:

Thomas D. Clark

, Lowell H. Harrison, and James C. Klotter. Lexington, Kentucky: The University Press of Kentucky.

ISBN

 0813117720.

 

↑ Joseph G. Dawson III, "Jefferson Davis and the Confederacy's 'Offensive-Defensive' Strategy in the U.S. Civil War," Journal of Military History, Apr 2009, Vol. 73#2, pp 591-607
↑ Richard E. Beringer, Herman Hattaway, Archer Jones, and William N. Still, Jr. Why the South Lost the Civil War (1986)
↑ Steven E. Woodworth, Jefferson Davis and His Generals: The Failure of Confederate Command in the West (1990)
↑ Steven E. Woodworth, "'Dismembering the Confederacy': Jefferson Davis and the Trans-Mississippi West," Military History of the Southwest, 1990, Vol. 20 Issue 1, pp 1-22
↑ Hattaway and Beringer, Jefferson Davis, Confederate President (2002)
↑ Paul D. Escott, After Secession: Jefferson Davis and the Failure of Confederate Nationalism (1978)
↑

Cooper (2000) p. 480

↑

Cooper (2000) p. 511

↑ John D. Winters, The Civil War in Louisiana,

Baton Rouge, Louisiana

:

Louisiana State University

Press, 1963, ISBN 0-8071-0834-0, p. 419
↑ "Jefferson Davis Was Captured".

USA.gov

. 2007. http://www.americaslibrary.gov/jb/civil/jb_civil_jeffdav_1.html

. Retrieved 2010-02-04

.

 

↑ Donald E. Collins, The Death and Resurrection of Jefferson Davis (2005)
See also
[
]
List of Memorials to Jefferson Davis
References
[
]
Secondary sources
[
]
Allen, Felicity. Jefferson Davis: Unconquerable Heart (1999) online edition
Ballard, Michael. Long Shadow: Jefferson Davis and the Final Days of the Confederacy (1986) online edition
Cooper, William J. Jefferson Davis, American (2000), 848pp; a standard biography
Cooper, William J. Jefferson Davis and the Civil War Era (2008) excerpt and text search; 128 pages; 9 short essays
Current, Richard, ed. The Confederacy (1998), useful 1-vol encyclopedia (short version of Current, ed. Encyclopaedia of the Confederacy (4 vol. 1994)
Davis, William C. Jefferson Davis: The Man and His Hour (1991) a standard biography excerpt and text search
Dawson, Joseph G. III. "Jefferson Davis and the Confederacy's 'Offensive-Defensive' Strategy in the U.S. Civil War," Journal of Military History, 73 (April 2009), 591–607.
Dodd, William E. Jefferson Davis (1907), 396pp; outdated scholarly biography online edition
Eaton, Clement. Jefferson Davis (1977), a standard biography
Escott, Paul. After Secession: Jefferson Davis and the Failure of Confederate Nationalism (1978).
Hattaway, Herman, and Richard E. Beringer. Jefferson Davis, Confederate President. (2001), scholarly study of war years
Rable; George C. The Confederate Republic: A Revolution against Politics. (1994). online edition
Neely Jr., Mark E. Confederate Bastille: Jefferson Davis and Civil Liberties (1993) online edition
Stoker, Donald, "There Was No Offensive-Defensive Confederate Strategy," Journal of Military History, 73 (April 2009), 571–90.
Strode, Hudson. Jefferson Davis (3 vols., 1955–1964), old popular biography
Thomas, Emory M. The Confederate Nation, 1861-1865 (1979), scholarly history of CSA
Primary sources
[
]
Davis, Jefferson. Jefferson Davis: The Essential Writings, ed. by William J. Cooper, Jr. (2003), 496pp
Dunbar Rowland, ed., Jefferson Davis: Constitutionalist; His Letters, Papers, and Speeches (10 vols., 1923).
The Papers of Jefferson Davis (1971- ), edited by Haskell M. Monroe, Jr., James T. McIntosh, and Lynda L. Crist; latest is vol. 12 (2008) to December 1870 published by

Louisiana State University Press

Jefferson Davis. The Rise and Fall of the Confederate Government (1881; numerous reprints)
External links
[
]
Template:Sisterlinks
Template:Start box |- ! colspan="3" style="background: #cccccc" | United States House of Representatives Template:USRepSuccessionBox |- ! colspan="3" style="background: #cccccc" | United States Senate Template:U.S. Senator box Template:U.S. Senator box Template:S-off Template:U.S. Secretary box |- style="text-align: center;" |- style="text-align:center;" |width="30%" align="center" rowspan="1"|Preceded by
Office established |width="40%" style="text-align: center;" rowspan="1"|President of the Confederate States of America
February 18, 1861 – May 5, 1865 |width="30%" align="center" rowspan="1"| Succeeded by
Office abolished |- |- | colspan="3" style="background:#bebebe; color:#000000;" | Notes and references |- | colspan="3" style="text-align:left;"| 1. Because of Mississippi's secession, the Senate seat was vacant for nine years before Ames succeeded Davis. |} Template:USSenMS Template:Pierce cabinet
Template:USSecWar Template:SenArmedServiceCommitteeChairs Template:Black Hawk War (1832)
ar:جيفيرسون ديفيس zh-min-nan:Jefferson Davis bs:Jefferson Davis bg:Джеферсън Дейвис ca:Jefferson Davis cs:Jefferson Davis cy:Jefferson Davis da:Jefferson Davis de:Jefferson Davis et:Jefferson Davis el:Τζέφερσον Ντέηβις es:Jefferson Davis eo:Jefferson Davis eu:Jefferson Davis fa:جفرسون دیویس fr:Jefferson Davis gl:Jefferson Davis ko:제퍼슨 데이비스 hr:Jefferson Davis id:Jefferson Finis Davis it:Jefferson Davis he:ג'פרסון דייוויס ka:ჯეფერსონ დევისი la:Jefferson Davis hu:Jefferson Davis ms:Jefferson Davis nl:Jefferson Davis ja:ジェファーソン・デイヴィス no:Jefferson Davis nn:Jefferson Davis pap:Jefferson Davis pl:Jefferson Davis pt:Jefferson Davis ro:Jefferson Davis ru:Дэвис, Джефферсон simple:Jefferson Davis sk:Jefferson Davis sr:Џеферсон Дејвис fi:Jefferson Davis sv:Jefferson Davis ta:ஜெபர்சன் டேவிஸ் tr:Jefferson Davis uk:Джефферсон Девіс vi:Jefferson Davis zh:傑佛遜·戴維斯