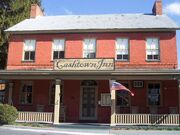 The Cashtown Inn is a bed and breakfast located on the outskirts of Gettysburg (about 8 miles). The Inn was created in 1797, when Peter Marck was the first innkeeper. He would only accept cash, giving it the name "Cashtown".
The Civil War
[
]
During the battle of Gettysburg, the Cashtown Inn was used as the Confederate headquarters and as a hospital. During this time, the inn had four rooms, which were used as places to strategize and as places to stay.
The basement of the Inn was used as a surgery room. Here, numerous Comfederate soldiers were amputated on. In fact, so many limbs were piled up out of the windows in the basement that light could not even get in through some windows! 
Paranormal Activity
[
]
Over the years, many apparitions have been seen throughout the inn. In the General Lee room, countless reports have been made about seeing and haring a woman walking around. In the Heth room, a Confederate soldier has been seen sitting near a window. 
In the other rooms, reports of televisions turning on and off, people walking above them and sounds of trampling horses are common reports that the owners get. 
An episode of "Ghost Hunters" has been filmed at the inn. The episode is called "The Fear Cage".
Sources

[

]
http://www.scaryforkids.com/cashtown-inn/
http://en.wikipedia.org/wiki/Cashtown_Inn